Copacabana 1940 Rum Añejo Launch Party

Tuesday, July 8th, 2014
My thanks go out to Barrio Spirits for inviting me to this fun launch party.  Check out their Twitter, Facebook, and Instagram for additional pictures, movies, and coverage from the event.  I included a slideshow in the post for easier viewing of photos instead of scrolling.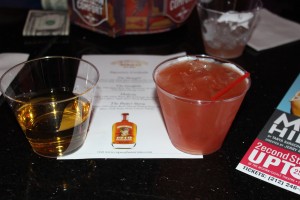 The Rum Itself
I first had it neat so I could see how it would incorporate into the cocktails being served and perhaps some of the more common concoctions.  The nose smelled of toasted coconut, cane sugar, and a hint of caramelization.  The palate continued with notes of toasted and fresh coconut, mulled coconut milk, ginger, and a hint of dessert spices.  The mouthfeel was light and  über smooth with just a hint of heat on the finish.  Overall it was fairly approachable compared to other añejo spirits such as tequila/mezcal.


The Cocktails
The  Goodfella was next, featuring dry vermouth, lime juice, fresh orange juice, and an orange twist.  I would say that The Goodfella is to rum as a screwdriver is to vodka – great for brunching and entertaining when not serving punch, mimosas, or Bloody Marys.  This one was definitely less sweet and more dry than the  Malecón and may be suitable  for those who like "less exotic" cocktails.  One of the great things about well-distilled rum is its versatility with juices, sodas and other spirits.  I definitely saw the "ron y cocacola" being poured in addition to the launch cocktails.
The Entertainment
Closing Thoughts
Podcast: Play in new window | Download
Subscribe: Apple Podcasts | Google Podcasts | RSS