Copacabana 1940 Rum Añejo Launch Party
Tuesday, July 8th, 2014
My thanks go out to Barrio Spirits for inviting me to this fun launch party.  Check out their Twitter, Facebook, and Instagram for additional pictures, movies, and coverage from the event.  I included a slideshow in the post for easier viewing of photos instead of scrolling.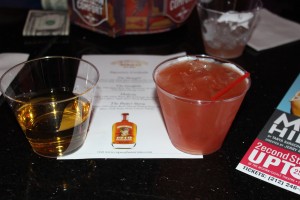 The Rum Itself
I first had it neat so I could see how it would incorporate into the cocktails being served and perhaps some of the more common concoctions.  The nose smelled of toasted coconut, cane sugar, and a hint of caramelization.  The palate continued with notes of toasted and fresh coconut, mulled coconut milk, ginger, and a hint of dessert spices.  The mouthfeel was light and  über smooth with just a hint of heat on the finish.  Overall it was fairly approachable compared to other añejo spirits such as tequila/mezcal.


The Cocktails
There were four cocktails on offer (
click here for the image
).  Unfortunately, The Showgirl and The Perfect Storm were out by the time I headed back to the bar, so I can only give my thoughts on the other two.  My first after having the rum neat was the Malecón, made with blood orange syrup, elderflower, fresh raspberries, lime and apple juice.  The drink totally blends the juice with the rum and is  deceptively easy to drink.  I do not know if the blood orange syrup was homemade or not, but I am sure you could get away with using some juice instead if you were to make it at home or by the pool this summer.
The  Goodfella was next, featuring dry vermouth, lime juice, fresh orange juice, and an orange twist.  I would say that The Goodfella is to rum as a screwdriver is to vodka – great for brunching and entertaining when not serving punch, mimosas, or Bloody Marys.  This one was definitely less sweet and more dry than the  Malecón and may be suitable  for those who like "less exotic" cocktails.  One of the great things about well-distilled rum is its versatility with juices, sodas and other spirits.  I definitely saw the "ron y cocacola" being poured in addition to the launch cocktails.
The Entertainment
DJ Miguelito spun  the special 1940's music mixes until the live performers were ready to drum away.  Melanie Torres & The Dance on 2 Studios choreographed and performed the tremendous dance numbers.  My apologies as the video is a bit blurry due to an auto-focus issue, but you will be amazed.  My Vines can be seen
here
and
here
.
The  Blacklist
's
Hisham Tawfiq
 was on hand as well, so I managed to have a quick conversation before other press and fans showed up.  Please don't spoil anything, as I am a little behind on some episodes!  Hisham himself had mentioned he did not usually drink a whole lot, but said he  was  having a good time and even hit the dance floor later (please check out the photo in the slideshow above).  I have to say he is probably one of the nicest and down-to-earth actors I have met in a long time.  Cheers to him, the rest of the cast, and crew – perhaps Barrio can send a few bottles over for sampling?!
Closing Thoughts
While I had been  exhausted from a full day, the smiles and laughs of everyone at The Copacabana truly reinvigorated my energy.  The Rum is very approachable and is an interesting alternative to your normal light, spiced, and standard rums in your home bar.  As far as distribution and availability, not much information has been provided as of yet, so please stay tuned to their site for more details by clicking  
Barrio Spirits
.
Podcast: Play in new window | Download
Subscribe: Apple Podcasts | Android | Email | Google Podcasts | RSS