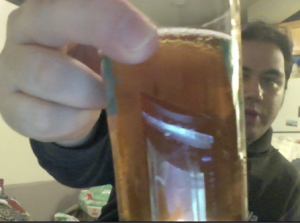 Evil Twin Molotov Cocktail is a 13% ABV imperial IPA brewed with natural flavors.
Appearance
Really intense orange tinge to its color, though the head dissipated quickly. Bottled date was around three months prior to my recording date.
Aroma
Syrupy resin along with citrus from the intense hop additions.
Taste
Rollercoaster! Hop resin followed by malt sweetness which gets defeated once again by hops. Aftertaste is quite intense and dry, but the alcohol is not easily detected until you feel it in your chest.
Mouthfeel
With the  malt backbone, it waxes and wanes between resiny and  syrupy with a good bit of weight and coating.
Overall
Not for the feint of heart or hops. Much like the 1000 IBU offering from his brother at Mikkeler, this is an intense hop bomb that I would not recommend sampling unless you are a hophead or an equal opportunity taster like myself. If you are either of those however, you are in for quite a ride at that high ABV mark. It's a good one to share and discuss since these hop-forward Imperial IPAs can be quite polarizing.