Food Fete Winter  2015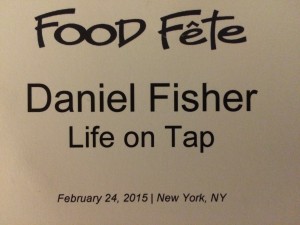 Food Fete  Winter 2015 was here once again on Tuesday, February  24th, this time back at the  Helen Mills Event Space.  A great thank you to Director Jeff Davis for the invite.  Key trends this time around: yogurt and dairy (or non-dairy) with a continued  focus on organic, non-GMO and alternative products. Let's get started on the recap.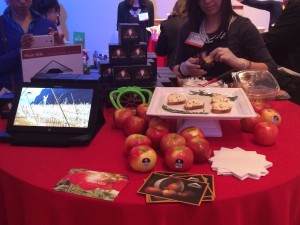 Apples are one of my favorite fruit (and Mikey's first word), so I was thrilled when actual produce was on the table as soon as I walked past the helpful and welcoming registration. As it turns out, this wasn't just a representation of an apple-based product — it WAS the product! The Lady Alice ® brand apple is a Rainier exclusive having first been discovered as a "chance seedling" after the initial tree had been mowed/chopped by a farmer. Not only is the fruit very visually appealing with a brilliant shine, it is a potentially very versatile apple, fit for both basic snack consumption, cooking and baking. Its heirloom nature also makes it slow to brown after cutting unlike some of the major apple varieties. I sampled a piece with some ricotta on a crisp, which only took minutes to whip up but would serve as a great passed hors d'oeuvres. Limited quantities available so look for it where you see Rainier (Whole Foods etc.).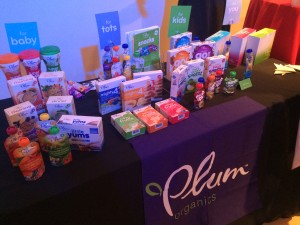 My second stop was preceded by thoughts of missing my son (who should have been in the bath soon after I arrived). Mikey enjoys a number of treats from Plum and other organic baby/toddler food companies, so I had to see what was on deck. He may be a little young for some of the more complex Go-Bars and food that caught my eye, but the surprise was the adult pouch offering Vida (which Sheryl and Mikey already split) and believe it or not, SOUP. The adult pouches featured recipes that were as or more exotic than the fare at your local juice bar and were great single-servings to have pre-yoga or workout for a protein boost. I sampled the tomato  meatball soup which will also be a single serving upon release. Lower sodium in addition to the ingredient quality commitment from Plum did not limit the flavor or consistency of the soup. This is something the whole family could share or be even enjoyed while on a playdate with Mikey or on-the-go. Get all products online or wherever you normally pick up Plum.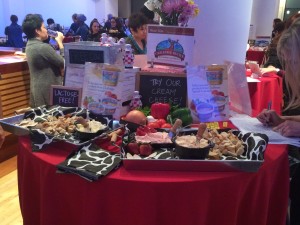 Last time  I took home a sample of the salt and cracked black pepper butter which proceeded to disappear extremely quickly with a handy stock of tasty breads. Two flavored cream cheeses were prominently featured  — salsa and strawberry  — both of which were very full of flavor. The salsa had a nice kick to it that showed up a few moments after consumption, which would be great for use with your Mexican-based recipes. While I normally do not love many strawberry-flavored dairy products other than yogurt and some ice cream, I have to admit that because of the slice/blend technique that Challenge employs, I genuinely enjoyed the truly bare flavor of strawberry. The big reveal though was the first ever lactose-free butter. They are the first-to-market with this product and it will be hard to beat. Most people are used to oil or chemical-based butter substitutes, but this is silky smooth and luscious on the palate. I dare you to serve this to even lactose-tolerant people to see if even they notice the difference. Look out of these products later this year or drop by their site for more information.
 
My wife and I regularly buy Muir Glen products whenever we do not have the time to make sauce from scratch. Since they were first to bring fire-roasted tomatoes to the fray, I felt I had to try their tomatillo sauce. The picture above is the a chicken and cheese bake with tomatillo sauce. The texture and taste of the Muir Glen sauce with added onion, garlic and spices worked out well, though using legit peppers like ancho would be better. I was way too meek to put in a habanero or ghost pepper from Dave, though I am sure it would have clearly my sinuses. We actually served the bake over the next stop's product.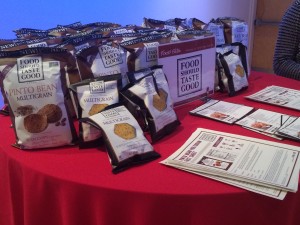 While we don't have chips too often (except for Mexican food), I love the offerings from Food Should Taste Good…specifically their Multi-Grain chips. Both the Pinto and Black Bean did not disappoint with the chicken and cheese bake with tomatillo sauce, though I would be partial to just making a ton of nachos. They stayed together even with the weight of the chicken and cheese on top, simply adding to the different textures and flavors. Overall a really easy dish to put together.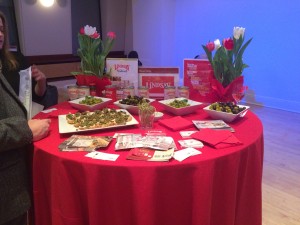 I mentioned that I do not eat chips that often…lately I have been eating more vegetables as a snack from sugar snap peas to baby carrots to of course olives. Lindsay had a number of offerings at the table, but I did not know they also did capers which I should watch out for. The recipe for their tapenade was of course grabbed from the table, so I look forward to recreating some of the magic from that olive tasting and presentation.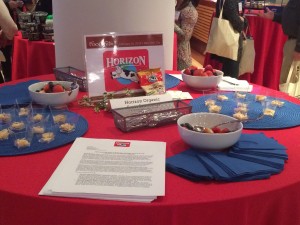 We give our son organic milk, so more often than not we get Horizon. While I am familiar with their full dairy line, I did not know they often snacking options as well. I tasted their toasted coconut chips which are delightful by themselves, though the representative also said I should throw some into their yogurt. The small cup was mega-addictive, so be sure to limit yourself to a bag at a time for true portion control.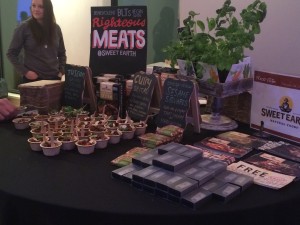 While I may not be Ron Swanson, I do like my meat. However we have been trying to balance out our intake of various different food groups not just to be more healthy, but to mix up our diet to maintain or lose weight. Over the past 10-15 years, meat imitation products have come a remarkably long way from over-processed or bland to where Sweet Earth picks up. Their commitment to flavor construction is inherent — both the Italian-sausage and the Curry chicken prepared items did not spare on the spice, texture or balance. I would love to prepare and serve this and not tell anyone what's in it…just to see what their thoughts are. My bet most people wouldn't care that it's not actually meat. They're not available quite yet in this area, but the brand ambassador mentioned that the veggie burgers are…can't wait to try them.

Now full disclosure: I am not the biggest fan of yogurt. That being said, so many new yogurt-based products have been launched or seen at Food Fete that have totally changed my mind as you have probably noted from my previous posts. Yulu  Yogurt continues the trend, luring me in with its  full-fat (full protein/nutrients) and luxurious  consistency/texture from its double-blending process. I tried the honey (which was awesome by itself), as well as the vanilla with some cacao nibs which was a tasty little treat. If you are looking to balance out traditional or Greek yogurts, give this a try to see if it fits your palate preferences. Currently available in NYC at:  Shoprite, Stop & Shop, Giant, Price Chopper and Walmart.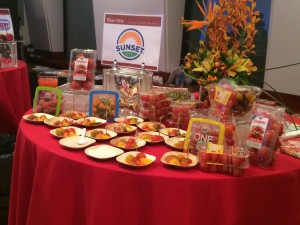 For those of you who go to Costco, you'll probably recognize the Campari tomato pack from Sunset. Little did I know, I was walking right into a full-on tomato tasting. After having heirloom and other varieties, I knew that there was an array of colors and textures. The tart to sweet flavors I tasted were intriguing  — there's a lot of different recipes or techniques to be had by using a different type (or multiple types) or tomatoes. I tried the "men's tomato" aka Kumato (which also comes in a mini variety), which was the most interesting of the bunch (Zima was also good), though what I love most is the new "snack pack".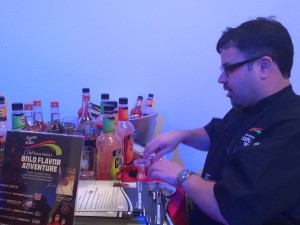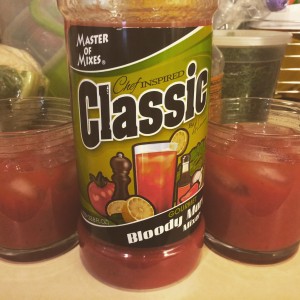 I have seen some other products from Master of Mixes, but I had yet try the Bloody Mary mixes. Since I was running out of time, I didn't get to have a full on Bloody Mary with vodka though I did get to try all three products: Traditional, Loaded and 5-Pepper. I loved all of them and made some Traditional Bloody Marys the next day with the chicken and cheese bake with tomatillo sauce over pinto and black bean chips. I know that all of you out there have tried a ton of different mixes, but this set is by far the fullest in flavor and thickness. If you don't already have a tried and true recipe, or if you want do not want to worry about making mix, definitely keep some of these around. They do not require refrigeration until after you open them.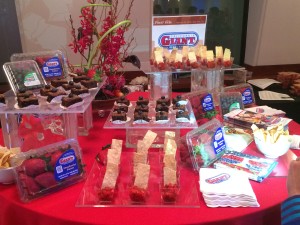 California Giant is one of those brands you see at quality and small produce markets. I have always had a dream to make a "dessert bruschetta", but they beat me to it. Their "strawberry salsa" was sooooo delicious that I probably could have eaten the rest of the supply they had. I was a little full to try the brownie, but my fellow attendees said it was also tasty.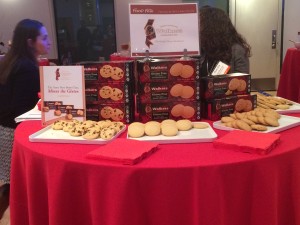 Did someone say Speyside? I do love my scotch, but Walkers is yet another Scottish product that my wife and I love to treat ourselves to. They have now launched a full Gluten-Free line of not just their classic shortbread, but also chocolate chip and lemon/ginger varieties. Keeping up with some similar sentiment/themes of the night, I would say that most people could not taste the difference between the original and the new recipe. Now more people can enjoy the taste of shortbread without the "bread" element that can affect digestion for some people.

Sheryl and I have been having a lot more juices and smoothies as of late while trying to mix up our diet. Seeing a table full of shot glasses with frothy fun was quite enticing. Many people simply mix Kura with water according to the rep, but the doctored-up versions (I had the chocolate-based and a veggie-based one) were awesome. These are quite filling and another great option for a pre-workout burst of energy. The packets are light and probably easy to travel with as well.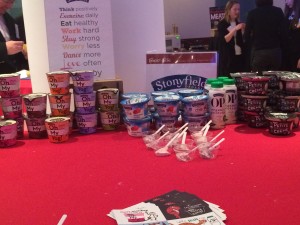 Stonyfield is another brand that I remember first saw believe it or not at the Clearwater Folk Festival. They always have new interesting items on deck, though the attendees were about to be kicked out when I arrived. I tasted their chia-infused Greek yogurt which was good with a little tang and good texture from the chia. I grabbed a few more sample which I will hopefully be able to taste (the triple-layered yogurt as well as few others), though Sheryl will probably eat them before I can get to them.
Final Thoughts
Jeff and his team at Food Fete never disappoint. My only regret (once again) was not being able to talk more at length with a few vendors, and I wish to apologize for not showing up on time at 5:30 so that I would have that extra time.  Please  feel free to share your thoughts here or with the brands themselves or by using #foodfete on Twitter.
The health-driven and high quality trends continue  via  the aforementioned vendors. I look forward to attending the next event and cooking with some of my samples (or just eating them). Food is meant to be tasted…so remember: Life's a tap…drink up 'til it's dry.
– Daniel Fisher