First of all, many thanks to Jeff Davis (@foodfete) for the invite to  Food Fete  – once again it was really eye-opening, informative and delicious!
We unfortunately arrived late because of work, but we immediately picked up our totes and began the fun.
A total of 19 vendors were represented ranging from savory to sweet foods, adult beverages and food-related items.  Unfortunately because of our late arrival we were unable to sample or speak with everyone.  Once again, each site is linked from each heading for easy browsing.

This Set of #FoodFete Stops
1)    International Spirits, LLC/Ivanobitch Vodka
As soon as I had said hello to Jeff at the door, we met the representatives for Ivanabitch.  They had the bartending staff pouring three different cocktails plus on the rocks.  Sheryl opted with the Pineapple Upside Down, which she said was quite tasty and way too easy to drink.  I opted for the Blackberry Vodka on the rocks, since I wanted to deviate from some of the more "traditional" flavors and did not feel ready to try either the cocktail or the straight Tobacco flavor.  While I do not normally drink anything other than straight vodka, the flavors do seem a better alternative for mixing than using the sugar or corn syrup-based flavored liqueurs.  These vodkas all run 70 proof, but please drink responsibly as I can imagine it would be easy to let a few of these sneak up on your tolerance.


2)    Applegate

I was really excited when I saw smaller version of pepperoni (both turkey which we eat and pork which we don't), but unfortunately did not have any samples.  The other products featured were lunch products for children in association with Stonyfield Farms.  They turkey and crackers were all natural/organic and were mighty tasty and healthy for any child.  If this was an option for a school lunch, it would be a truly better alternative to some school lunches and the Lunchables of years ago.
3)    MODERN OATS
I used to eat A LOT of instant oatmeal because of lack of time, but as of late have switched to oat-based cereal because the heat in my apartment turns me off from hot food in the morning.  Sheryl and both enjoyed the texture of this oatmeal compared to other instant/quick oatmeals – I too was surprised at how much I enjoyed the Goji Berry flavor.  We have a savory and a sweet left to try, both of which seem extremely easy to prepare and will likely have the same fortitude of flavor.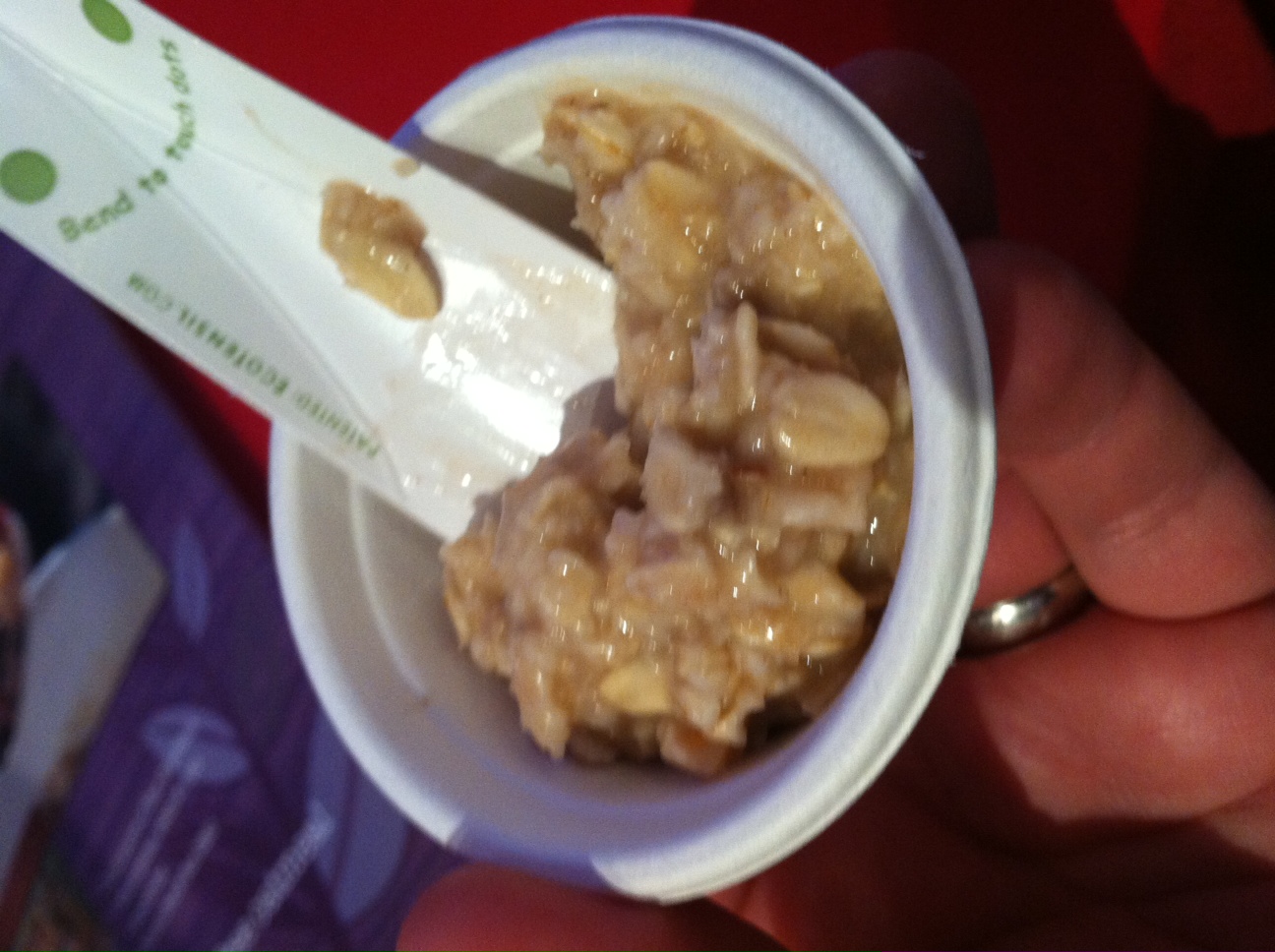 4)    Horizon
The famous certified organic dairy has now launched their very own Mac & Cheese line.  They were serving up little bowls and we both adorned them with some of the fix-ins provided.  I went straight for the Sriracha, red pepper and broccoli (this combo rocked), while Sheryl mixed up her veggies (she enjoys doing this with her version of Mac & Cheese as well).  I like the shells that were used…there's a lot more flat surface area for sauce to spread out on and I would be curious if they stuck together less than the traditional macaroni format.


5)    Honest Tea
Have a Whole Foods near you?  You will have access to a new exclusive product from Honest Tea.  Their line of 5 Honest Lemonades will definitely be a detour from the other "lemonades", as this line is certified organic, uses Fair Trade sugar (and sparingly I might add), and is only 70 calories per 8 ounce serving!  The Half & Half (Lemonade & Tea) was both Sheryl's and my favorite, but the Berry Hibiscus could probably be enjoyed both cold and warm.  The Mint Limeade would also be quite refreshing on a warm day as well (and make a super easy Mojito).  I like that each of these is not too cloyingly sweet, as many producers tend to go that route.  The acidity sometimes also eats the enamel right off your teeth, which does not happen with the balance inherent to the fruit juice.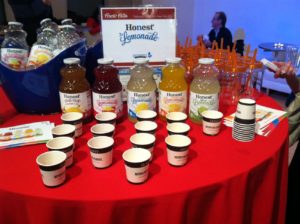 6)    Late July Organic Snacks
Sheryl and I do love our tortilla chips, but unfortunately it is something that my sister (who is allergic to soy) rarely gets to enjoy.  The Late July Tortilla Chips are not only soy free, but also gluten free, Certified USDA Organic, and Non-GMO Project Certified.  We heard from the PR Representatives that the owner's child has a few allergies, but has no issues with these products.  Some of the products are also vegan-friendly even!  The partial bag we chomped on for the rest of the evening wasn't (Dude Ranch which is incredibly addictive), but the Sub Lime is.  Can't wait to try them with our next authentic Mexican meal.  They just launched two new flavors – Sea Salt (these would substitute for your normal bag of chips) and Chia & Quinoa (a very trendy flavor with Chia hitting the "power food" scene).
7)    Cascadian Farm
Sheryl and I routinely use Cascadian Farm for their vegetables, but tonight we had the opportunity to sample their protein bars.  We sampled one of each kind, but the Peanut Butter Chocolate Chip was a clear winner.  I like that the mouthfeel and texture was not too hard, crumbly or soft.  I would also like to note that the delivery of the samples came in cute, little, green "gift totes" a little bigger than the size of a hotel in Monopoly – totally adorable and as such, not exposed to the elements.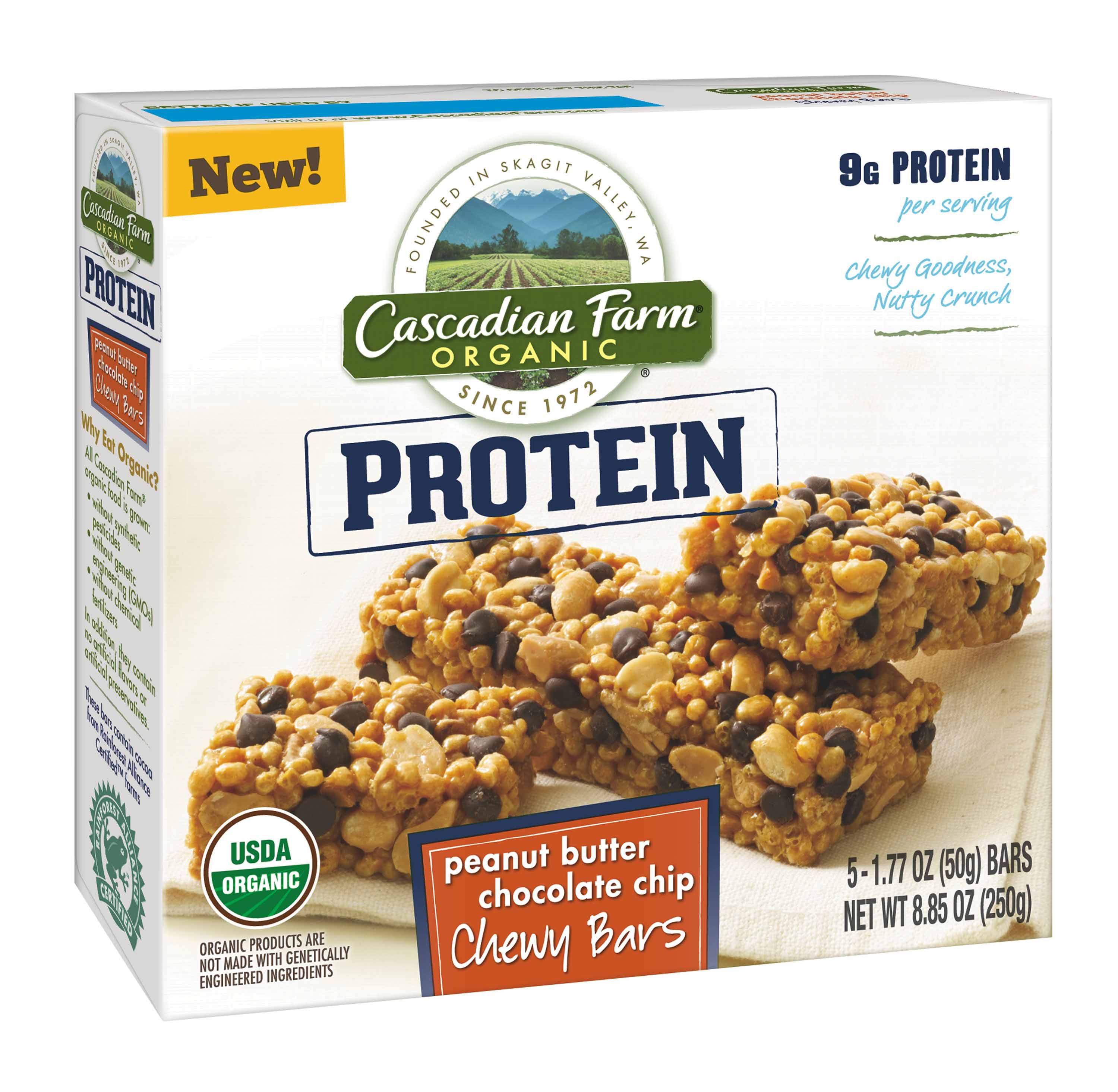 8)    Rudi's Organic Bakery & Rudi's Gluten-Free Bakery
We heard a lot from people in the Boulder/Denver area this time around.  Rudi's has quite a long history and dedication to their trade.  While I did not get a chance to visit last time I was in Boulder, I should try and do so next time around between brewery visits.  I sampled some toast with apple, goat cheese and drizzled honey – totally sweet and a little decadent but fun.  You cannot taste that this is gluten free.  Sheryl enjoyed a mozzarella & eggplant sandwich on Rudi's Organic English muffins.  It will be interesting to see if we prepare variants on our recipes to see if people can even tell the difference with traditional bread products.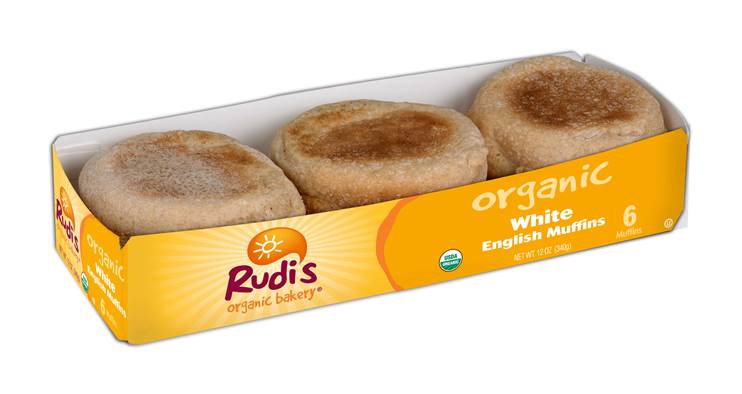 9)    R.W. Knudsen Family
We all know someone who does not enjoy eating vegetables…nowadays many have turned to drinking them or other nutrient-replacement beverages.  R.W. Knudsen, known for their juices, combine 50% vegetable with 50% fruit juice in their new Berry Veggie, Orchard Veggie and Tropical Veggie Blends.  Sheryl and I preferred the Berry Veggie, though normally she prefers tropical fruit juices.  Once again, good balance on this juice and plenty more palatable than some other vegetable-based concoctions I have had.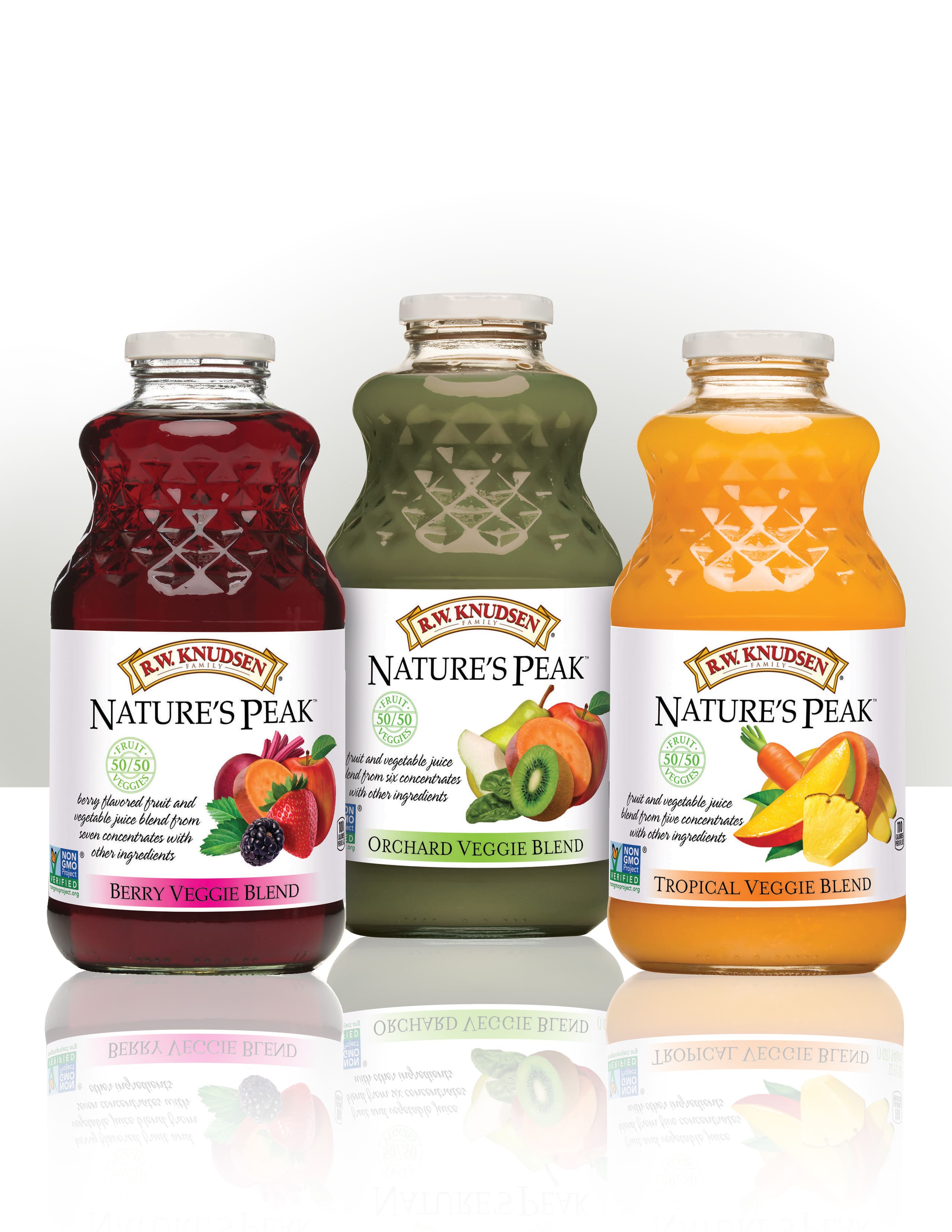 10)  Roth Cheese
Having worked at an artisan cheese company, I wasn't sure what to expect from Roth Cheese.  That being said, as soon as I saw the raclette going, I needed to have a bite.  In addition to their normal 15 pound Raclette wheels (available at select groceries and deli counters), they are now offering three flavored Raclettes: Roasted Garlic, 5 Peppercorn and Mediterranean.  We sampled the latter and found the consistency of the raclette to be near perfect.  For those of you purists our there, you may want to stick with the traditional one, but if you are a little bit adventurous and happen to have access, grab a pound or more to melt and serve on some crusty bread or potatoes.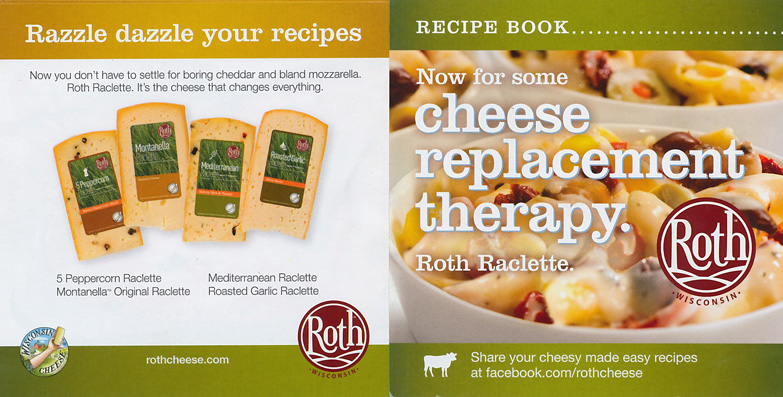 11)  Seattle's Best Coffee
Now most of you are thinking that we needed to have a cup of coffee after tasting all this food and beverage.  No, we just needed to have a dessert-like cocktail.  Using 1 cup of their Medium Dark Rich Roast #4, the bartender skillfully shook it with ice, 2 tablespoons of maple syrup, 1 cup half and half, and 1 tablespoon of vanilla-flavored vodka.  While the maple got a little lost in the flavor, the coating on the martini glass had red velvet and maple.  Pretty darn tasty and great post or during dessert.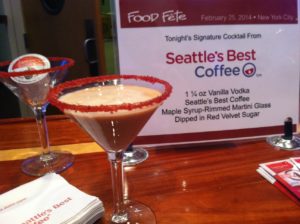 12)  Duncan Hines
We did not have much time to speak at length, but we noticed Blue and Pink Velvet mixes along with Salted Caramel Brownie.  The Blue Velvet had a pretty intense flavor, while the caramel was more subdued in the brownie than I thought it would be.  The texture on both was fairly moist and had a good texture.  Wish I had tried the Pink though.
13)  Farm Rich
Sheryl and I managed to split the very last Mozzarella Stick from Farm Rich, but missed the Crispy Dill Pickles and Toasted Ravioli (cue sad face here).  The Mozzarella Stick has got to be the most yummy one I have ever seen come to the snack packaging world.  I definitely will want to try them and the other varieties again.  Check their site for the store locator.
14)  Yasso Frozen Greek Yogurt
Sheryl and I ate our flavors as we were getting our coats/getting pushed out the door.  I opted for the Mint Chocolate Chip, while Sheryl had the Peanut Butter Cup.  Full disclosure: I do not really like Greek yogurt, but Sheryl does.  SURPRISE!  I could eat these anytime.  Unless people saw the packaging, I believe many would be surprised that these pops are made from yogurt.  Once I have enough room in the freezer, I am sure that Sheryl might "let" me keep a pack there…especially for the hot summer days.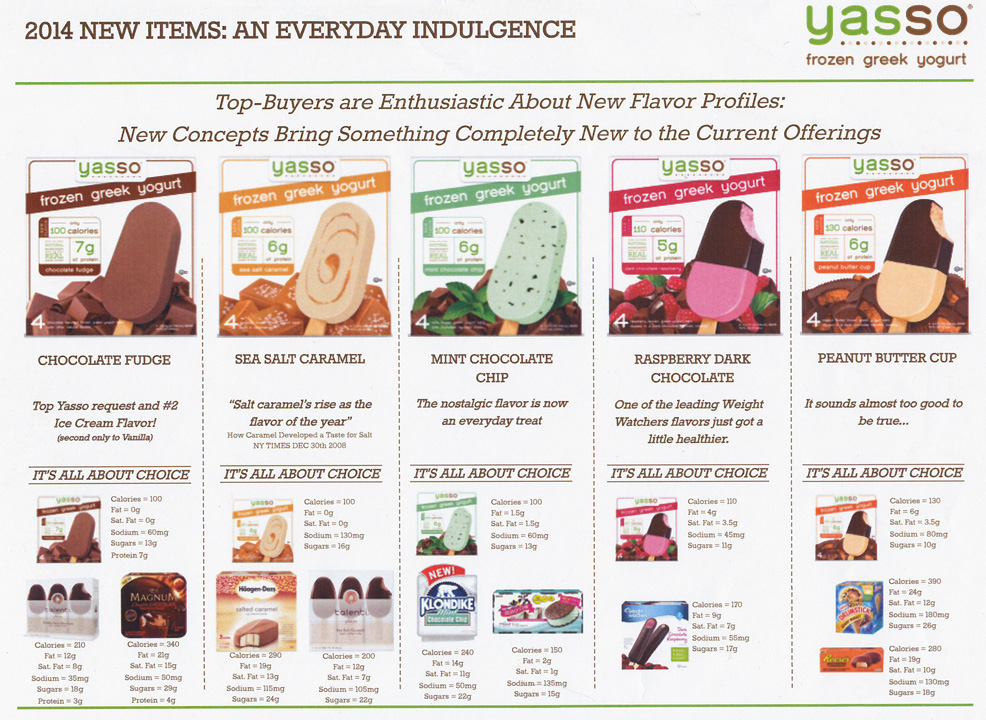 As with previous Food Fetes, the vendors/representatives whom I had a chance to connect with really spoke to the nature of the products being launched.  Feel free to visit the embedded links to check out or support if you are so inclined.  Many thanks again to everyone who put the extra effort into this event and especially to  Jeff Davis for continuing to produce Food Fete.