Randy Mosher
If you don't know who he is and you're into beer, you must be living under a rock. From Tasting Beer to his numerous other books, he has been educating beer lovers forever. I had the pleasure of speaking with him during #BBC12 in Indianapolis, but walking through this tasting approach (and tasting more brews from 5 Rabbit at the Expo) was truly memorable. I encourage you to pick up one, if not all of his books to help follow his path…check out his site.
Beer tasting as a path to self awareness
His most eloquent words, not mine. I never realized it, but I subconsciously may have been searching for this almost buddhist-like and thoughtful approach. Perhaps proper tasting technique honed through a combination of process and trust in your memory and impulses is the path to self-awareness.
Randy decided to use beer from Stone Brewing, familiar to us all, as inspiration to dig in to our tasting vocabulary. He encouraged everyone to shout out what they were smelling or tasting.
"Don't worry about having the right word – lizard brain impulses matter."
Randy Mosher
Most of us are familiar with various aspects of evaluating beer, either through personal experience, homebrewing, or even BJCP-related training or judging. Be sure to look for:
Appearance
Aroma (including retronasal)
Initial Taste
Taste Changes
Mouthfeel
Flavor (aroma, taste, and higher cognitive functions together create this impression)
After looking closely at the color, carbonation etc. of the beer's appearance, Randy explained to not dip your nose straight into and all the way into the glass. "Skunky" beer can be smelled from up to 18 inches away with a simple whiff, and you won't be able smell anymore if you inhale too deeply. Stage 2 sniffing can help avoid DMS and other off flavors in the same way. When placing your nose full in, just take little sniffs to pick up nuances. Short version:
Whiff (18 inches away to avoid skunkiness and other off-smells)
Drive-By (DMS and initial evaluation)
Little sniffs in the glass to deeper explore
Retronasal (exhale through your nose after tasting or swallowing the beer)
Other tips? Warm the beer through contact to bring out more aroma. We all struggle with vocabulary, but we need to "Be on the lookout for those little memory things". We all see sommeliers chewing wine…they are simply moving it around to get contact everywhere in the mouth. As Randy also stated, tasting needs to be done with respect to time; your first and last tastes may leave you different impressions.

The Beers
1 – Stone Ripper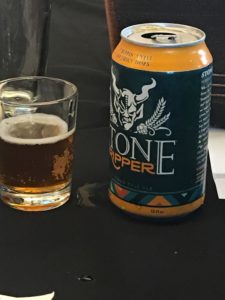 Clear, golden and a good level of medium-size bubble carbonation. Malt sweetness, almost orange blossom honey. Another blogger mentioned "Tang", which also came through along with pineapple. Honey malt in the middle, bitterness throughout with a citrus-like finish. Someone said citronella. Randy believed the cracker/caramel element was brought to the table by Vienna malt. Overall the flavor has a "West Coast Edge" with the hop flavor and dry finish.
2 – Stone IPA



Comparable level of carbonation to the Ripper and slightly lighter in color. Resiny, catty, dank and a hint of fruit on the nose. The Centennial dry-hop with Azacca, Motueka, and other hops dominate with grapefruit peel and hop bitterness on the taste. This is a classic West Coast IPA through and through with a super-dry finish.
3 – Ghosthammer
(forgot to take picture)
Pilsner malt is the clear base for this new IPA, with lemon and floral elements on the nose. Tastes of lemon sugar and hops, and ends with citrus/lemon pith and moderately dry finish. This new offering is in cans and would be sure to please a number of hopheads needing a shift in their hop selection/palate.
4 – Arrogant Bastard



Another classic brew from Stone. On the nose, brown sugar, biscuity and classic Chinook hops. I got toasted marshmallow fading into an almond skin on the finish. This big brew is still not for the feint of heart, but evokes a super nostalgia play for me.
5 – Russian Imperial Stout

Another trip down memory lane, as I have had countless vintages of this classic. Dark chocolate and cocoa nibs all the way for me on the nose, with brownie, dark cocoa, and a hint of roast drenches the palate. The luscious and velvety mouthfeel make me crave bold cheeses (Aged Gouda!) and dessert pairings.
6 – Imperial Saison du Buff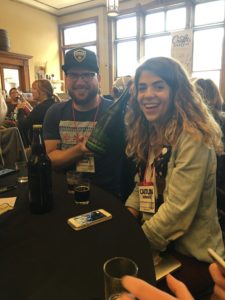 I had John and Caitlin pose to show the scale of this massive bottle (double magnum?). The nose is herbaceous, with marjoram and banana blending together with estery elements care of the yeast. Huge bubblegum on retronasal followed the banana and herb notes that continued from the nose. For the record, I love Saison du Buff and the imperial version does not disappoint with more bombastic aroma and flavor with "scrubbing bubble" carbonation and silky mouthfeel.
More Nuggets of Wisdom from Randy
Bloggers are a vital service to the beer world – Customers and brewers depend on them to educate!
The "Maillard reaction" is caused by melanoidins, created when malt is kilned in the present of moisture.
What happens when beer first hits your mouth (G-couple protein) – bitterness comes later when malt goes away.
Quality should be present throughout – astringency is a no no.
Glycosides – I missed most of this, but will have to refer back to his books for this.
Toothpaste has antibiotics and will mess with your palate. If you are tasting/judging skip this!
New research is now measuring thiols for aroma data. I will have to read more for sure!
Rating is good to set beers apart, but non-blind systems are flawed as people bring baggage from breweries, styles etc. to the table. (Example: guy in Dayton does blind tasting with BJCP judges or bloggers and throws in one of their "favorites" to prove this point.)
Get on the BJCP program! I haven't homebrewed in FOREVER, but I suppose it may be time once I can better manage temperature and my cats' dander that persists everywhere in my tiny NYC apartment.

I believe I speak for my fellow bloggers that Randy provided so much knowledge through a most-entertaining and eye-opening presentation that will collectively raise our tasting credentials. Will we achieve self-awareness through our tasting path and become "beerhisattvas"? Only time and dedication will tell.
Cheers and remember:
Life's a tap…drink up 'til it's dry.