"Why is Dan covering the third session first?"
Well due to the cascading delays from the round of thunderstorms around the country, my flight's crew was delayed so long that those same storms finally hit NYC. Hence, GROUNDED. The torrential rain not only caused a delay, but I found out later that my suitcase (and presumably most on the flight) were left outside for at least a few minutes. The seemingly never-ending downpour soaked every article of clothing in my bag…including the jeans I had intended to wear later that day. There was a silver lining in that none of the beer, packed ever so carefully, was affected.
For every Beer Bloggers Conference I have attended, I always had the pleasure of Julia Herz ( @HerzMuses ) to kick things off with poise, data, and new perspectives. I also missed the welcome from John Kimes of the Pabst Milwaukee Brewery which no doubt was full of energy and joviality. Many of my fellow bloggers covered this well via social media and blog coverage, so I will leave it to them.
After spending nearly forty minutes hanging up the wet clothes, carefully inspecting the beer, and using a hair dryer on my damp jeans, I hopped in a Lyft to head straight to lunch, hosted at the newly-renovated, former church — Pabst Milwaukee Brewery. I grabbed a few delicious bites care of Chef Rebecca Berkshire (those deviled eggs were AMAZING), a Biere de Mars, a Barleywine, and quick catchup/hello with previous attendees.
As I walked into the Great Hall, I feasted my eyes on the polished yet hearth-like appeal of the room. I saw more familiar faces as I scouted out a seat where I could plant myself and finally take a load off while listening to some interesting viewpoints that would paint the theme of my weekend: Milwaukee is a must-visit beer destination that should be better recognized for its role in American beer history, the brewing community's attention to beer quality from grain to gulp, and their sincere commitment to hospitality.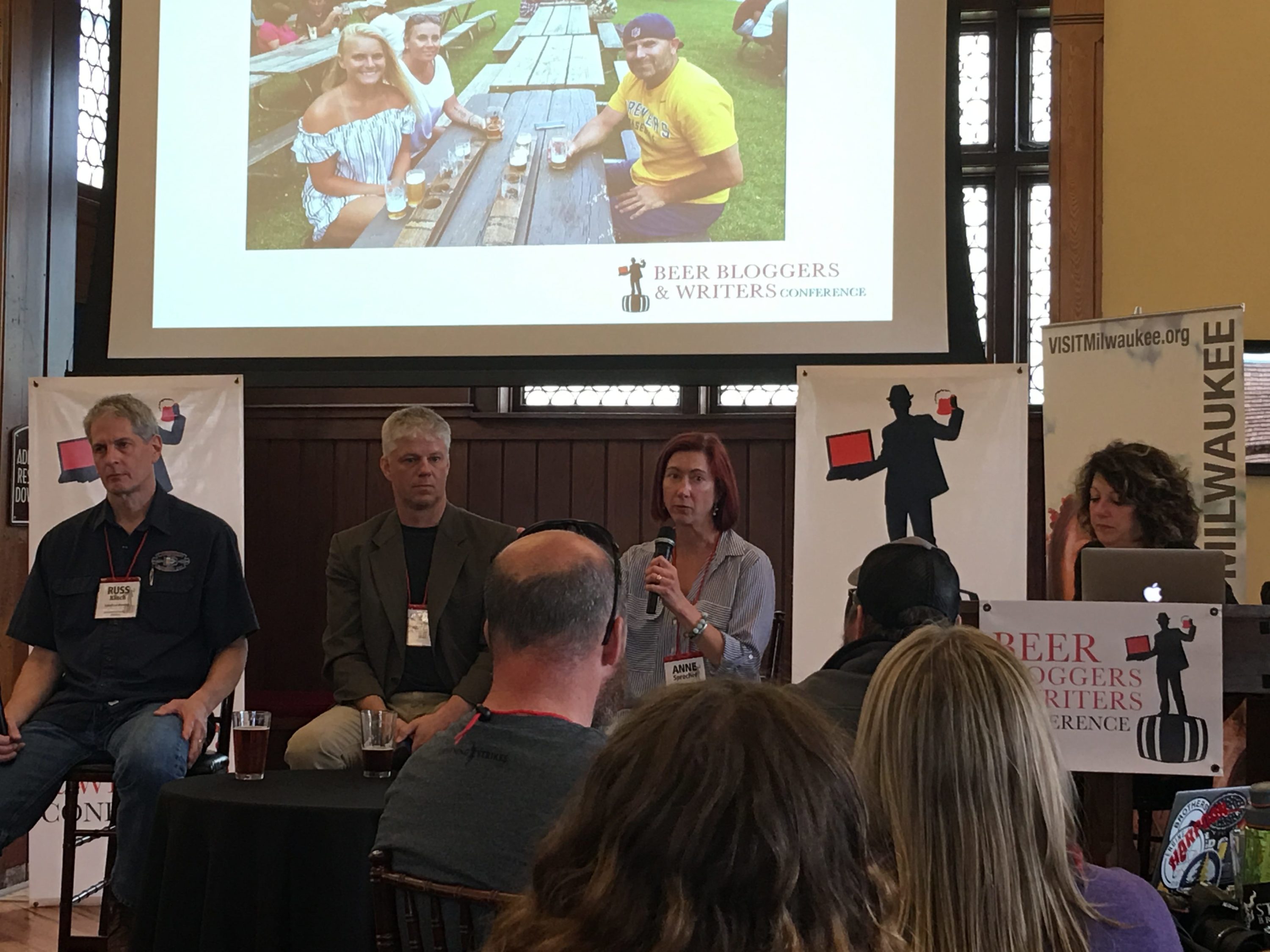 The Beer Industry in Milwaukee and Wisconsin
The Panel
A Little History
While I will not recount everything said by the incredible panel, one phrase was consistently repeated that deserves mentioning. New breweries in Milwaukee (and Wisconsin as well) were "in the large breweries shadow" for quite a while. We first heard about how German brewing culture came to be present, and how Wisconsin communities mostly revolved around their hometown brewery's beer garden. In 1836, the first brewery opened in West Wisconsin (the capital of Madison). A local beer history lesson would also be remiss if "Prohibition Tales" were not mentioned, which reminded me of Schell's own stories told previously on The Session. Hell, even the baseball team in Milwaukee are Brewers (not just in name, as three collaborated on a beer for the park).
Fast forward to the 1970s, filled with the repeated woes of brewery shutdowns and consolidation by the Big Three. Looking back at this, one could draw many comparisons between Milwaukee and fellow beer city St. Louis. I was in awe to learn that out of the 76 breweries that remained at America's low point, 11 of them were located in Wisconsin. Now there are 30 in Milwaukee alone! Mark correctly identified LL Cool J when he said to the room, "Don't call it a comeback…we've been here for years." I, or even huge LL fan Fudge'ems could not have said it better ourselves.
The Craft Beer Scene
Russ and Anne spoke about the evolution of the local craft beer scene, as Lakefront turns 30 and Sprecher turns 33 this year. It was not until 2005 that investor money became plentiful. All craft breweries were start-ups who frequently would create "Frankenstein" systems out of old dairy equipment and whatever else they could get their hands on. Now as well as then, you need to have passion to get into this game.
Craft Beer has always been a disruptor to the American macro-breweries, but I did not know that they were an equal or bigger disruptor to distributors as well as the Three-Tier System. Mark was able to further explain that brewery licenses included wholesale and retail identities, which in essence bypasses our current legal setup for all alcohol. The word "dissonance" was thrown out, as while all wanted to extend the category, the level of trust to do so may not have been present. After hearing from other people over the course of the weekend, it appears that a new balance is being sought after by some. I would like to believe that many have the sincere interest of offering higher levels of quality and choice to the consumer, but previous news stories (outside Wisconsin) have shown that some will do anything to get market share and money.
The Wisconsin Brewers Guild (and other regional guilds) are banding their resources together to lobby for their rights, just as other interest groups do the same for distributors and retailers (the other two tiers). Some on the panel were concerned that the creation of additional guilds may dilute the power of the guilds. This trend will be another interesting one to watch not just in Wisconsin, but in every state.
Festivals, Festivals and More Festivals?
Anne alluded back to the initial history remarks as well as their efforts to bring the beer garden back to the community. Sprecher works with Milwaukee County Parks and employs "traveling beer gardens" complete with converted old fire trucks armed with taps instead of hoses and such. They also sponsor programs like "Pass Me A Pint" and "Roll Out The Barrel Tour" to additionally support the local beer culture. Since Sprecher's foray into this area, MillerCoors and other breweries jumped in and donated a lot of money as well. A key result: incidents of crimes have gone down in all parks where beer gardens are present.
Believe it or not, Wisconsin leads the nation in festivals…there are sometimes three a week! The biggest is "Great Taste of the Midwest", of which Mark has been the Chair (it's his last year). All panelists noted that "Festival Fatigue is a real thing" as is "Craft Beer Week Fatigue"; from April through September, all the brewers and authorized representatives struggle to attend and represent their brand at every fest. While everyone agreed there is room to do festivals well, each brewery needs to make hard decisions on which ones to attend. One additional constant is that all festivals (including charitable and non-profit) pay for the beer, and that it is never donated. Russ added, "if all brewers gave it, they themselves would become non-profits."
Other noted comments on festivals was that some mandate that an official representative (brewer or owner) must be present for festivals, such as Glendale's. Mark chimed in saying, "Personal connection" is important at festivals and wherever beer is poured. I cannot tell you how many beer festivals I have been to that the persons pouring do not know anything about the beer except what they have been told. For me, speaking to someone who brewed or helped with the process in some way is much more valuable. So has the novelty of festivals worn off? Not for the organizers obviously, who constantly push breweries with the promise of additional or enhanced exposure. Mark quickly quipped, "You can die of exposure." Too true.
Diversity and Craft Beer
All panelists mentioned grappling with this topic. I will be the first to admit that it is not easy to approach, but if we all agree to talk openly and honestly we can make real strides. The Pink Boots Society already does an incredibly service for women in craft beer, and actively encouraging and educating anyone interested should still be the focus according to the panel. Seeing more minorities and women at the helm of craft beer enterprises help provides role models and mentors for our future brewing generation.
What's The Biggest Opportunity for Wisconsin Beer?
Russ: More sessions, more fun beers, more education, more collaborations
Anne: Educational opportunities through Cicerone, Hop School, etc.
Mark: Collaboration across beer, wine and spirits (barrel-aging is just the beginning)
Audience Questions
How should we review bad beer as a blogger?

Two approaches were offered here: ranking and omission. If you rank all the rauchbier you have tasted and rank one at the bottom, you are in essence not saying it is bad beer. You are simply stating there are a bunch that are better. If I feel that a beer is not the best representation (accidental infection, questionable storage/transport etc.), I generally will not post a review. I also will reach out to the brewery directly with my concern, for which most of the time I am thanked for the notification. In the end each and every blogger or writer will need to be consistent in their approach.

Mixing beers/blending between breweries?

A Schlitz/Pabst combo was mentioned, which obviously drew jeers from the audience. The panelists did not seem that excited or interested at this prospect, but some of us out here might not say no if one was handed to us.

What are the most popular tours now that there are more taprooms – will tours need to evolve?

While curious people like bloggers and homebrewers (about 1% according to Anne) might be more inquisitive about recipes, setups and the technical end of things, most people go on tours to be entertained and sample beer. Most breweries and brewpubs seek guides who can relate to people, and work the crowd. The more unique of an experience, the more memorable and that will be key to evolving tours.
Looking Forward
The panel offered various paths and/or opportunities for stakeholders in local craft beer communities to expand brands as well as the overall category reach amongst alcohol drinkers. Russ reminded all of us that the Nielsen reports on actual SKU purchases show that while craft has made waves, it is by no means a major portion of market share. As previously mentioned, bloggers and writers play a unique role in developing our local beer culture and we collectively need to step up to evolve and preserve it and its history.

Cheers and remember:
Life's a tap…drink up 'til it's dry.