This is one in a series of posts from Dan's #BeerNow AKA #BBC18 experiences.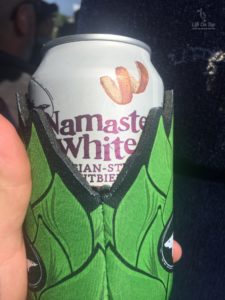 Day 1
After wrapping up at the Open Gate Brewery and Barrel House (see my previous post), the #BBC18 crew loaded up a bus packed with additional arrivals of our blogging brethren before heading out to The First State. After some stimulating conversation led by @daddyporterblog about everything from food to our individual approaches to our sites to the Namaste White, SeaQuench, and the myriad of Dogfish brews to be had, I settled down for a quick cat nap to rest off the late night in Baltimore. Chatting continued, and I rejoined once I felt I had enough shut-eye. The bus was along shortly with the other motel's guests, and we were off to Milton for a long night of eating, tasting, learning, and some special time with the Dogfish crew.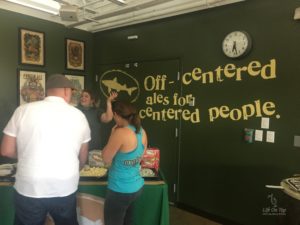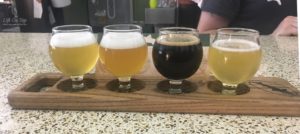 Cruising down the street towards the brewery, we saw the Steampunk Treehouse in the distance, and most of us could barely contain our excitement. As we stepped out and walked inside, the welcoming staff were primed and poised to accommodate as much as we were ready to sample and enjoy. While most made a B-line to the bar to see what's on tap, I knew that I wanted a little more food in me before proceeding; it's as if they knew I was coming, with a full table of cheese and beer pairings of some of my favorite Dogfish brews! I literally could not stop eating, which probably helped prepare me for my selections at the bar, most of which were R&D, but I had to end with one of my all-time favorites: Palo Santo Marron.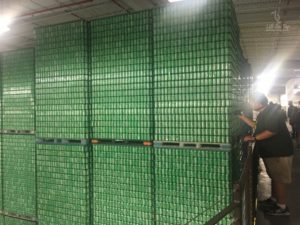 Tour groups started forming and making their way into the facility, so I followed suit, anxious to see all that I could behind the closed door. We started in the new brewhouse, walking by various pieces of Dogfish history including "Sir Hops Alot" and Sam's original system. Continuing on, we ogled the new system, fermentation and filtration room, and of course the Palo & Oak Wood Aging Room. Heading over to the R&D area, we snagged some great shots at the bevy of barrels surrounding us as we sampled a delightful "citrus-y hopped Kolsch" called "Ballpeen Hamster", and later wee bit o' rum to help keep us loose. Continuing outside past the famous Emerson quote, we continued on Off Centered Way to check out the packaging and shipping area. The sheer size of the operation, including the piping as well as prepped pallets astounded me. Check out @Beerploma snapping his own shot next to the mammoth stack of SeaQuench cans to be filled! It was quite the experience to see the origin of all the bottles, cans, and kegs I enjoy every year.


After we finished up, we headed back to the brewhouse for a delicious buffet to put back some of the calories we lost on the tour. I think I can speak for most of my fellow companions when I say I was feeling pretty amazing. Little did I know we were being poured an unexpected and mesmerizing beverage to enjoy during Sam's "Fireside Chat" in the brewhouse. The special treat for #BBC18 was none other than a 2008 120-Minute IPA.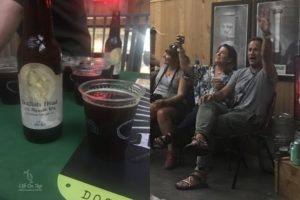 While most would balk at the idea of tasting 10-year aged IPA, as the dominant hop profile would undoubtedly drop out, it resembled more of an olde ale, with the oxidation presenting beautiful notes of dark fruit and a touch of caramel sweetness. I feel this was the perfect beer to sit back and listen to the Calagiones re-tell and enhance the origin story many of us read or heard through various media. The total experience felt so surreal that I could not even think of one question to ask; fortunately many of my fellow fireside attendees posed various inquiries that would have been close to mine. Wrapping up, we went downstairs to do some shopping (I bought a new, much-needed rain jacket) before loading up the bus.

Our final stop(s) were to our respective inns for the evening. I had the privilege to stay at the Dogfish Inn, fulfilling what I call "The Off-Centered Triumvirate" (though I will have to add Chesapeake & Maine for my next visit). As we pulled up, the appearance matched a quintessential beach-area inn, bathed in bright white paint with nature-like accent colors, gravel parking area, and a fire pit outside next to the common area/check-in. Our hosts were super-friendly and check-in was quite expeditious, as we were in our rooms in no time flat so we could get settled. My room was spacious, featuring a King-size bed, TV, huge bathroom, and ample space for all my belongings to be stowed or hung up. If I had been on an extended vacation here, I could see myself curling up with a good book if it happened to be raining or perhaps outside enjoying better weather. An intrepid group of bloggers decided to go for "skivvy dip" in the Chesapeake (and later for additional drinks at the local bar), but I opted to kick off my shoes, change back into shorts, and sit by the active fire pit to reminisce about the day's experience with some others who stayed behind. Many thanks to @BeerMakesThree and @Nashbeergirl for the incredible nightcap beer: Homestyle from Bearded Isis Brewing in Nashville.
Day 2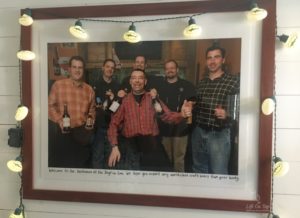 Having some extra time in the morning to sleep in was quite helpful, but I still felt a little rough around the edges. After my morning routine and packing up, I hit the breakfast nook for some water, a touch of cold brew, and later an egg and cheese from Notting Hill Coffee Roastery. I brought back a little extra treat – a Nutella-filled pastry meant for sharing. Don't worry – Dan Beaubien from @Beerploma and A One Pint Stand (you should be listening to it) helped me finish it off! After kicking back with the crew and watching @HucksBeerBuzz perform morning calisthenics including a healthy dose of pelvic stretching, we checked out and awaited the bus' arrival from the other inn. Next stop: Dogfish Head Brewing & Eats!

The drive towards Rehoboth provided quaint beach town views, with a stark mix of modern and colonial architecture populating both sides of the road. Conversation over the previous night's unforgettable experiences passed the remainder of the time quite quickly, as we all dreamed about 10-year old 120-Minute, no doubt. Pulling up, we saw the new brewpub (just a little over a year old), alongside the EmPOURium, Distillery, and Chesapeake & Maine. In true Dogfish fashion, we were greeted with a friendly smile as we walked into a wonderland of craft beer, punk, and hip-hop…complete with a stage!



We were directed up the hoppy stairs (photo included) to the balcony area where we sat down for a tasty lunch and pour of four unique brews from the pub. While the entire menu looked delicious, I simply could not pass up the chicken and waffles with sambal maple syrup despite feeling a little full from breakfast. Sufficed to say, the waffles were decadent and chicken I could literally not stop eating. I shared a bit of my dish with my tablemates to make sure everyone could feel and taste the love in the dish's creation.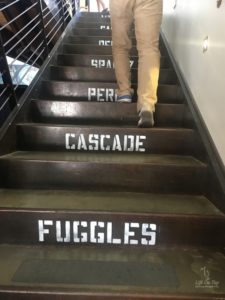 Now, onto the beers! All of them were intriguing in their own right, but a few were more polarizing amongst the palates in the room.

A number of my fellow bloggers toured the smaller distillery here, but I knew I had to go shopping at the EmPOURium for a bit. I think I shopped well, but still wished I had more space to pack more crowlers or even more liver processing capability. We left the brewpub with full bellies and open minds from our multi-pronged Dogfish experience.
Closing Thoughts
Why haven't I done this sooner? That was the question echoing through my mind the entire time. While driving there directly might not be as convenient, I am sure that an extended weekend could offer most East Coast peeps plenty of time to delve into all things Dogfish. While I cannot go back this year, I have a feeling that a revisit will be in order with a few more friends or family in tow. After all, I still need to go to Chesapeake & Maine, but I would also love to check out a music show at the pub!
Once again, many thanks to the crews at the Brewery, the Brewpub, and the Inn for extending such warmth, hospitality (and "hopsitality"), and providing an incredible first of what I hope to be many Dogfish experiences.

Remember, life's a tap…drink up 'til it's dry.